Unified now has 3 boilers to better serve our Customers!
Unified Valve Group is committed to offering our customers complete valve services. We offer steam valve services currently at two of our locations, Bonnyville and Edmonton, AB. Our boilers are designed to endure the high steam testing requirements to meet ABSA AB 524, ASME and NB 23 standards - both of our boilers support ASME Section I and Section VIII steam valves.
We have fully trained and certified valve service technicians at both of our facilities that can handle all valve types.
Benefits of our Boilers:
All brands and models of valves
Service and test up to 12" inlet steam valves
Steam testing capabilities up to 3,000 PSI
Lift assist devices for testing higher pressure
Two accumulator set up for higher efficiency
Boiler can operate daily - availability 24/7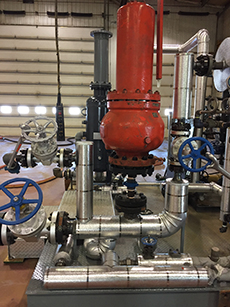 Steam Valve Services Coming to Calgary in early 2021!